Ch.11 : Inscriptions and Graffiti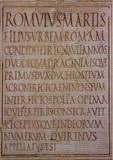 Epigraphy Pompeii consists not only in the inscriptions of a public and monumental character, engraved for posterity in stone, marble or bronze.
The state of graffiti inscriptions on the walls of Pompeii which gave different information. They were mostly black or red, uppercase or cursive letters and written by professional writers or by the residents. Those that were found dated from the last few years because most were cleared to replace them. There are roughly 3,000 voter registration. They were official or personal.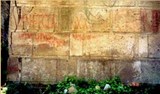 Except for a few, quite importantly, Oscan language inscriptions dating from pre-Roman times, Pompeii has not given us great 'something very valuable from the standpoint of public epigraphy. For cons, the material is rich in what we could define the used epigraphy paintings or inscriptions left on the walls, especially on the exterior walls of public buildings and private houses.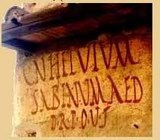 In this view, we can say that the entire city will form a huge archive where we need to draw on, day by day, all possible documentation before time and weather have not erased all traces. All events, great and small, the daily column, elections for municipal charges shows at the amphitheater, rental and sale of houses and land, ads to find a beast of sum lost, borrowed all this publicity for table its display, plaster constructions, which exercised his talents scriptores a class, are drawing ingenuity beautiful capitals, painted in red on white plaster or white on a red background.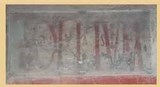 More varied, more intimate, more human is epigraphy as a "graffiti carved into the plaster at the forefront of style or of any instrument capable of scratching the plaster walls. These" graffiti "are not traced in capital letters; we reserve running their writing, sometimes very tiny. At that time, the necessary writing materials were scarce and costly. The papyrus and "tabula ceratae" had the honor to be reserved for literary and administrative documents of a legal nature. Everything else, we willingly confided at the forefront of a style and plaster of The innkeeper stood a wall of his shop accounts on the same wall, beside his sales counter,. the keeper of a gambling den inscribed along its inputs, and the debts of its customers; the businessman , consular dates, lovers, a thought, a few words of love, school children, the signs of the alphabet, or some lines they had to enter by force in the memory.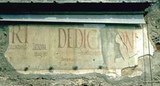 The crowd of idlers and loafers amused to write insults, threats or sketch caricatures. Fans of shows of the amphitheater have left us the memory of their enthusiasm for their favorite champion and a volley of insolence to the address of the opposite faction. He is not accustomed to the brothels and other places of this kind that we have not left some sample of their expertise obscene. And now, thanks to all these inscriptions, life seems reborn in the solitude of Pompeii désensevelie and make us hear a thousand voices of the past. And here stands before us not the tragic picture looks the last spasm of life of an entire population, but what is eternal in the human mind: a thought, a feeling, expressed through the written word !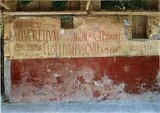 The most prominent kind in the Pompeian epigraphy is the platform, disease was raging furiously. The facades of buildings are literally carpeted, especially the posters of the most influential citizens. In large capital letters spread the candidate's name, the title of the office to which he aspires, and finally expressed as acronyms, its call for public favor (Oro your faciatis). Often side of the candidate's name, we read that a citizen or corporation supporting the nomination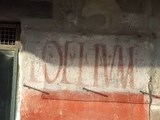 Cite an example:
Pop(idium) Secund(um) Aed(ilem) d(ignum) r(e) p(ublica) Tiburtinus rogat. Pop (idium) Secund (um) Aed (ilem) d (ignum) r (e) p (ublica) Tiburtinus rogat.

In the category of public posters, ads must link the shows at the amphitheater. Some were placed on the facade of the "Casa di Valente Trebio" in the new excavation area One of them, preceded by the name of scriptor Polybius, gave the following notice to the Pompeians.:


D. Lucreti Satri Valentis flaminis Neronis Caesaris Au-g(usti) f(ili) perpetui glad(iatorum) par(ia) XX; et D. Lucreti Valentis fili glad(iatorum) par(ia) X pugn(abunt) Pompeis ex a(nte) d(iem) nonis apr(ilibus). Venatio et vela erunt.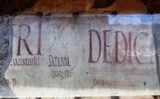 Importants were the graffiti that escape the attention of the flâneur, or because of the difficulty of deciphering or because of their characters too menus. The most frequented public buildings were of course the most exposed to the epigraphic habit of citizens, improvised scriptores, so much that can be read in three different places on the walls of the Basilica, the Theatre and Amphitheatre a couplet with no shortage of irony and humor:

Admiror, paries, te non cecidisse ruinis, qui tôt scriptorum taedia sustineas. Admiror, paries not you cecidisse ruinis, which sooner scriptorum Taedia sustineas.

I marvel, O wall!, You still am not fallen into ruin under the weight of all the nonsense that we covered thee.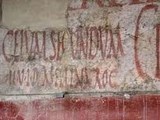 Some example of registration on the games of gladiators:


P[RO SALVTE GER]MAN[ICI CAESARIS TI] CLAVDI V[E]RI M RV FELICITER
FAM(ILIA) GLAD(IATORIA) PVGN(ABIT) [... MA]RT(IAS) POMPEIS VEN[ATIO ATHLET]AE SPARSIONES QVA DIES PATIENTVR ERVNTFor the health of Germanicus Caesar Tiberius Claudius, the gladiatorial troupe Verus will fight ... in March (or February?) To Pompeii. It will give an hunting, athletic contests. He sprinkle perfume to make the most pleasant days. Vive Verus ! Verus Vive!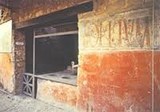 CVMIS GLADIATORVM PARIA XX ET EORVM SVPPOSITICII PVGNABVNT KALENDIS OCTOBRIBVS III PRIDIE NONAS OCTOBRES CRVCIANI (=CRVCIARII) VENATIO ET VELA ERVNT CVNICVLVS SCRIPTOR LVCCEIO SALVTEM
At Cumae, twenty pairs of gladiators fight and alternates 1, 5 and 6 October. There will be punishments and hunting. The sails will be strained. Cuniculus (« Lapin ») Cuniculus ("Rabbit") gives salvation to Lucceius.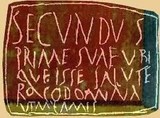 LVCRETI] VALENTIS FLAMINIS NERONIS AVG(VSTI) F(ILII) PERPETVI D(ECIMI) LVCRETI VALENTIS FILI(I) [FAM(ILIA) GLAD(IATORIA) PVGNABIT POMPEIS] P COLONIA
V KAL(ENDAS) APRIL(ES) VENATIO ET VELA ERVNT
This poster announces a show for the same date as the previous one. On the right we notice the rest of information that could be pro colonia [e ...] "For ... colony."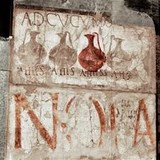 Some random graffiti:

M Holconium Priscum II vir i d pomari[i] universi cum Helvio Vestale rog Marcus Holconius Priscus duumvir !
Fruit merchants unanimously agree with Helvius Vestalis, vote for him.


C Cuspium Pansam aed muliones universi Agatho Vaio
agree with Agathus Vaius vote for him.
C Iulium Polybium II vir chypari rog
Gaius Julius Polybius duumvir. Onion merchants vote for him.

Cuspium Pansam aed aurifices universi rogCuspius aedile Pansa! The goldsmiths unanimously vote for him
Ch.12 : Public Architecture in Pompei...